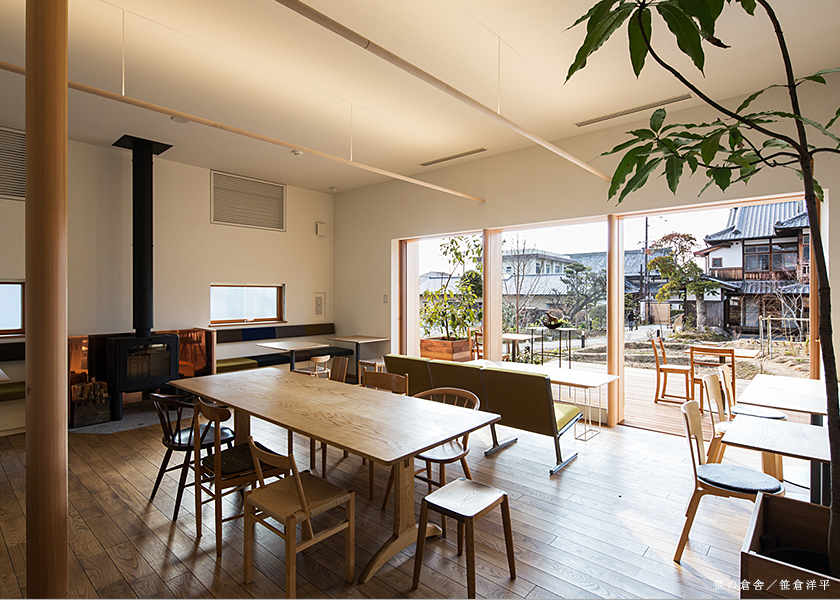 Opening hours
11:00→18:00(closed on Wednesdays) Tel. 0742-94-9700
Tea room
◎Sandwiches・Toast・Salads
(L.O. 17:00)
Yamatonadeshiko egg and cucumber sandwich/850yen

Fresh egg sandwich with one of Nara's specialty eggs of high quality



Avocado toast/820yen

One whole avocado on toast with homemade mayonnaise sauce and spices



Small fish and potato toast/820yen

Spicy mashed potatoes with citron peppers, accented with crispy small fish



Homemade anko toast/700yen

Topped with homemade anko (sweet red bean paste) and butter


Green salad topped with poached egg/720yen

Green leafy salad with a soft-boiled egg, fruit and spicy jam



Hashed Pork and Rice

/1100yen

Local Yamato pork and variety of mushroom stewed

in a demi glace sauce



Keema Curry and rice

/1000yen

with full of vegetable essence, accented with lotus root, topped with

a soft boiled egg and homemade seasoned salt

*Last order for curry and hushed pork is 15:00.
Chestnut Parfait on a plate/850yen

Gorgeous autumn parfait with mont blanc cake and chestnuts gelato


Chestnut and rum cake/580yen

Baked tart with plenty of chestnuts and rum soaked almond flour served with smooth whipped cream


Tarte Tatin served with Ice Cream/680yen

Baked tart of a whole Kogyoku apple sauteed with butter and sugar



Sweet Potato Pound Cake/480yen

Pound cake with plenty of roasted mushed sweet potato



Cheesecake Tart/550yen

Crunchy tart topped with rich cheese and plenty of fruits



Seasonal Fruits and Whipped Cream Cake/580yen

Sponge and whipped cream cake, topped with Seasonal fruits



Ginger Pound Cake/450yen

Light pound cake made with thick ginger and honey syrup
Perfect dessert to pair with a cup of coffee or tea!



Chiffon Cake with Yamato Herb/520yen

Herb chiffon cake with locally-grown touki (Japanese angelica root) and mugwort,
topped with lightly sweetened whipped cream



Japanese Granola + Milk from Uemura Farm/780yen

Fresh milk and granola with the blessings of nature - brown rice, persimmon, green soybeans, glutinous millet, barley and dried fruits.

and more
◎Drink
(L.O. 17:30)
*Saezuri offers hand drip single origin organic coffee.
Coffee beans are ground on each order. 
Coffee (Hot/Ice)/500yen a pot of coffee for one person/681yen
Café au lait (Hot/Ice)/520yen
Weak coffee/477yen
Coffee topped with whipped cream/532yen
Special herb au lait/650yen
Tea (Milk/Lemon)/550yen
Organic tea grown in Tsukigase, Nara
Iced tea/550yen
Golden lemongrass tea of Yoshino, Nara(Hot)/560yen
Organic cinnamon tea (Hot) /560yen
Cinnamon tea of good quality with natural sweet flavor, from Sri Lanka
Milk from Uemura farm (Hot/Ice)/420yen

We also offer fresh juices and soda with fruits in season.
We offer bio wines imported by Vinaiota, beer and alcohol-free beer
Coffee (Hot/Ice) /Regular 500yen Large 650yen
Café au lait (Hot/Ice) /520yen

Coffee topped with whipped cream

/

532yen

Tea /Regular 420yen Large 550yen
Iced tea /Regular 420yen Large 550yen


We also offer fresh juices and soda with fruits in season.
* The menu may change seasonally.
* All the prices exclude tax.
We don't take reservations for tables.
Tel.0742-94-9700