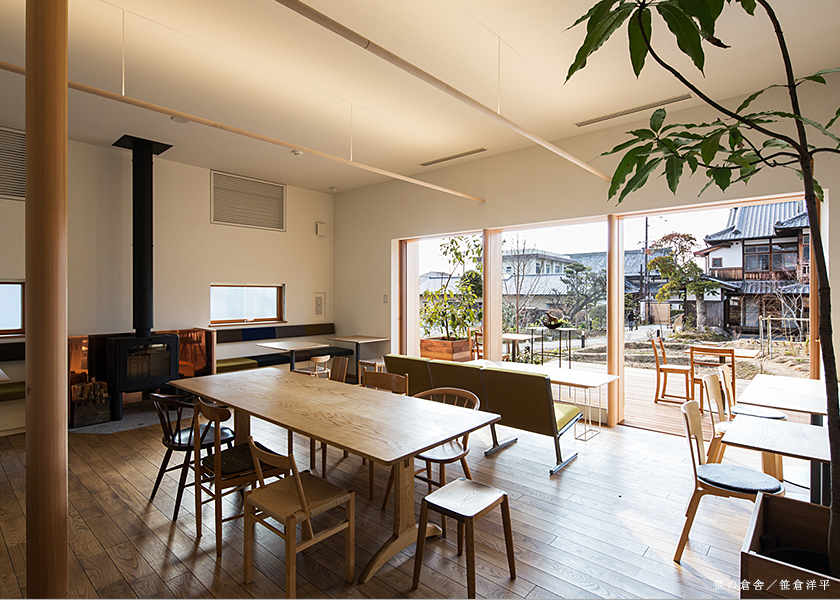 Opening hours
Weekdays 11:00→18:00
Weekends & National holidays 8:00→18:00 (L.O.17:30)
(We are closed every Wednesday.)
Tel. 0742-94-9700
Tea room
◎Morning(8:00→11:00) ※only Weekends & National holidays
*Toast, baked sweets and granola are served with coffee or tea
Toast/510yen

Soft boiled egg and cabbage toast/650yen

Homemade red bean paste toast /700yen

Japanese granola + milk from Uemura farm/750yen and more
◎Lunch・Café(11:00→18:00 L.O. 17:00)
Chicken Balls and Vegetable Gratin with Pumpkin Sauce/ 1400yen

includes bread, salad and drink (coffee or mandarine orange juice)



Baked with ginger chicken balls, Yamato mana greens, broccoli,
celery and rigatoni filled with pumpkin sauce, topped with full of cheese
Homemade Hamburg Steak/ 1600yen

includes rice,soup, salad and drink (coffee or mandarine orange juice)



Soft minced beef steak with Chinese yam,

indulged in rich and well balanced homemade sauce

made of tomato sauce,demi-glace sauce and Madeira sauce
Soup of Shiitake Mushroom Sausage

/ 1500yen

includes bread, salad and drink (coffee or mandarine orange juice)



Collaboration between lemon soup and rich sausage made of tasty shiitake mushrooms

grown on logs with tender care by "Fresh Shiitake Okamoto"

Heartwarming soup for autumn
Fried Rice with Shrimp and Coriander/1400yen

includes soup, salad and drink (coffee or mandarine orange juice)



Asian style fried rice with spices and nuts topped with saute shrimps, scallops and full of coriander,

served with a small croquette

Squeeze a lemon as you like!
Creamy 5 Mushrooms Doria /1500yen

includes soup, salad and drink (coffee or mandarine orange juice)



Gorgonzola and fresh cream doria with 5 kinds of mushrooms, done up brown.

You will love it!
Spring Vegetable & Firefly Squid Carbonara

/1400yen

includes soup, salad and drink (coffee or mandarine orange juice)



Creamy, yet egg-free kudzu udon pasta
with spring vegetables and firefly squid in season
Yamatonadeshiko egg sandwich/850yen

Nara's special eggs passed strict inspection,
which are produced with specified formula feed containing Yamato tea

Avocado toast/820yen

One whole avocado with homemade mayonnaise sauce and spices, tastes simple

Small fish and potato toast/820yen

Spicy mashed potatoes with citron peppers and crispy small fish to enhance the flavor

Homemade red bean paste and walnut toast /780yen

Homemade lightly sweetened red bean paste with walnuts and spicy mascarpone cream

Green salad and egg on top/720yen

Green leaf vegetables with a soft-boiled egg, fruit and spicy jam
Yamatonadeshiko egg pudding/540yen

Simple pudding with high quality of Yamato eggs and milk from Uemura farm



Fruits no bake cheese tart/550yen

Crunchy tart of rich cheese with plenty of fruits



Persimmon Tart/540yen

Autumn tart layered with mascarpone cheese and brown sugar cream,
topped with full of fresh persimmon in season.



Seasonal fruits Whipped Cream Cake/580yen

Sponge and whipped cream cake, topped with Seasonal fruits



Ginger Pound Cake/450yen

Light pound cake made with thick ginger and honey syrup
Perfect dessert to pair with a cup of coffee or tea!



Cake with Chestnut and Rum/580yen

Baked cake with almond powder accented with rum and chestnuts,
served with smooth fresh cream



Yamato Herb Chiffon Cake/520yen

Chiffon cake with locally-grown Yamato herb, touki (Japanese angelica root) and mugwort,
topped with lightly sweetened whipped cream



Baked apple/650yen

Baked cinnamon apple
Sweet and sour Kougyoku apple with vanilla ice cream and caramel sauce



and more
◎Drink
*The beans of fresh-brewed drip coffee are grained on each order
Coffee (Hot/Ice)/500yen 

a pot of coffee for one person/681yen
Café au lait (Hot/Ice)/520yen
Weak coffee/477yen
Coffee topped with whipped cream/532yen
Special herb au lait/650yen
Tea (Milk/Lemon)/550yen
"Sayamakaori" organic tea grown in Tsukigase, Nara
Iced tea/550yen
Golden lemongrass tea of Yoshino, Nara(Hot)/560yen
Milk from Uemura farm (Hot/Ice)/420yen
We have various kinds of wines such as Natural wine imported by VINAIOTA in Italy
and KITOUSHI from Higashikawa-cho, Hokkaido.
Enjoy them along with your meal.
Coffee (Hot/Ice) /Regular 500yen Large 650yen
Café au lait (Hot/Ice) /520yen
Tea /Regular 420yen Large 550yen
Iced tea /Regular 420yen Large 550yen
* The menu may change seasonally.
* All the prices exclude tax.
We don't take reservations for tables or lunch.
Tel.0742-94-9700